STEWARDSHIP FY23: THE GOOD NEWS!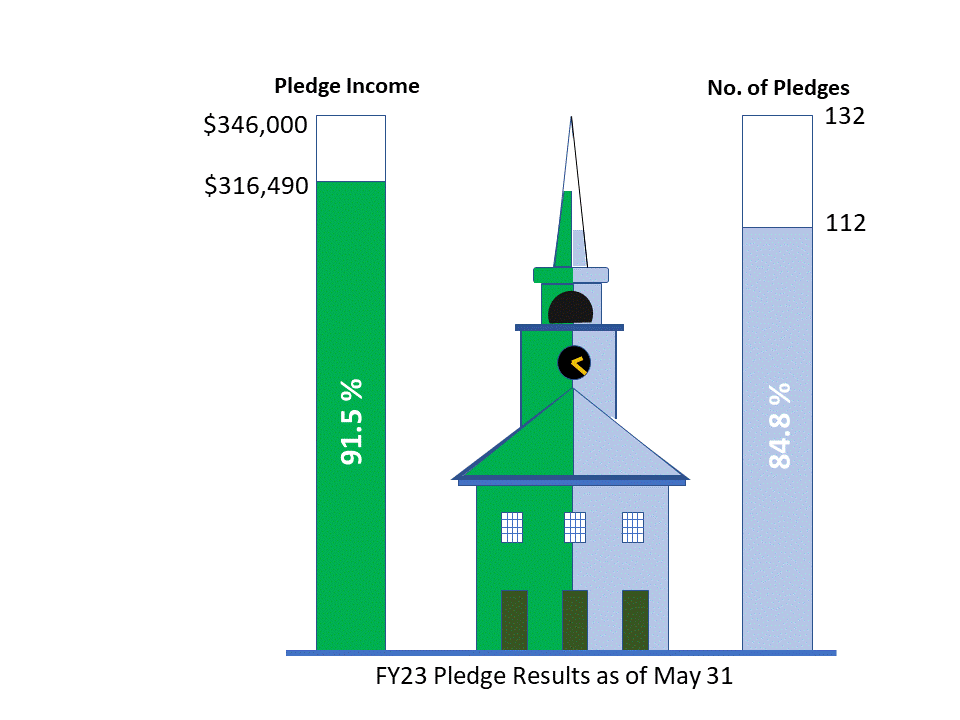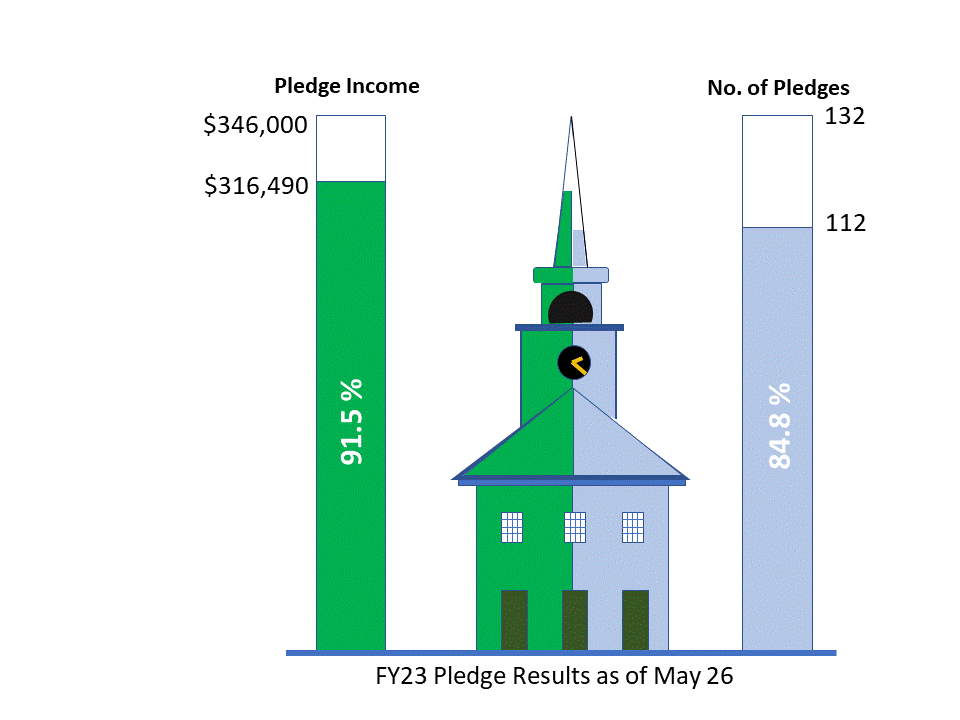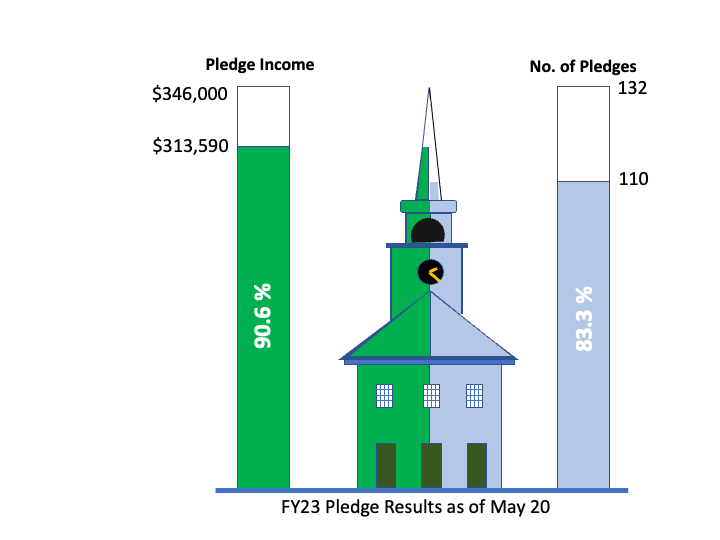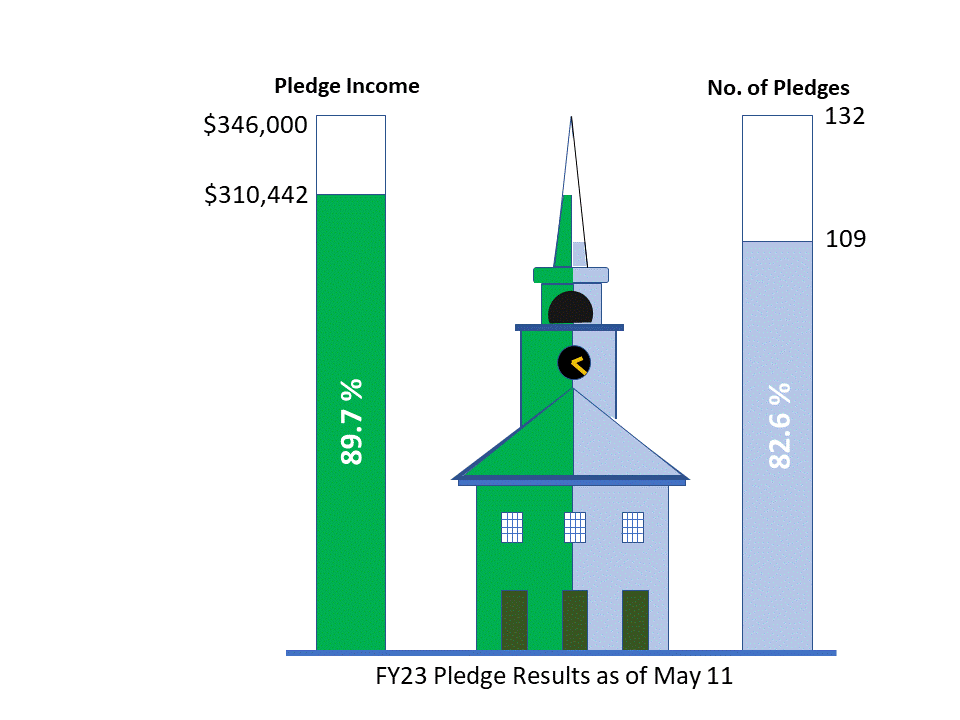 Stewardship Video Messages

As we look back at 2021 the GOOD NEWS is that our church has continued to thrive!
In May, we cautiously yet joyously returned to in-person gatherings and services, thankful that we were worshiping, praying, and doing the work of the church together once again in our historic building. In this last year, we also began livestreaming our Sunday service, expanded our outreach, welcomed new families and new members, and celebrated our generosity in multiple ways, all while living into our mission to be grounded in God's love, to welcome all, and serve our neighbors near and far!
In 2019, we named FIVE PRIORITIES that we felt should be the focus of our congregation's time, energy, and funding. These priorities came out of the Congregation Assessment Tool Survey, which identified CCA as a "High Energy" and "High Satisfaction" congregation equipped for transformation. Even in the midst of a pandemic we've managed to channel our collective energy into all five of these priorities, and as we launch our 2022 Stewardship Campaign, we're celebrating all that we've accomplished in addressing these goals.
NEW FAMILIES
Goal #1: "Make necessary changes to attract families with children and youth."
Last summer we welcomed our Interim Church School Coordinator, Gretchen Davis.  With the guidance of our Christian Education Team our Church School resumed meeting in person, offering a creative and engaging program for our children. Several new families have found their way to our church through our children's program, and our Middle and Senior High Youth Groups and Confirmation program are all thriving as well, under Pastor Kate's leadership. This summer we have plans to offer a Vacation Bible School (VBS) program for children, providing families in our community with a fun summer activity while also showing them what we have to offer as a community of faith.
NEW ENERGY
Goal #2: "Reach new people and incorporate them in the life of the church."
In September, after 18 months of offering recorded worship, we began livestreaming our Sunday morning services. This allows us to continue to reach our current members who are unable to attend in person, while also reaching new people who've discovered our church through our online worship. In 2021, we welcomed 10 new members and at least a dozen other newcomers have expressed interest in joining. In addition, there are those who watch online but have not yet visited us in person and those who've participated in our outreach efforts. Zoom meetings and classes have allowed new people to connect with our congregation as well, as we've embraced the many ways technology broadens our reach!
INCREASING GENEROSITY
Goal #3: "Develop our spiritual generosity to financially support the ministries of our church."
2021 ushered in the third and final year of our Capital Campaign. We've successfully tackled nearly every project on our list, with the last project (sanctuary windows) now fully funded thanks to the generous matching gifts and grants we received this fall. Our 2021 Stewardship campaign also met its goal, funding the "aspiration" budget that included raises for our pastors and staff. Thanks to the generosity of our members, we purchased the equipment needed to livestream our worship; donated kitchen and bathroom kits for foster care organizations; supported the Woman's Association online Sleigh Bell Marketplace; and for the first time ever, completely funded our Christmas Gift drives through member donations.
EXPANDING OUTREACH
Goal #4: "Expand outreach ministries to provide direct services to those living on the margins."
In 2021 we continued to expand our efforts to serve foster care children and families in transition by giving this home-grown ministry a name: the Home Starter Program. We provided furniture and household goods to families in need with our hands-on service: coordinating, collecting, and delivering donations with the help of our members and members of the community. Last summer we introduced our Little Free Farm Stand, which provided free produce to the community every Sunday. We set up the stand at SHARE, but we built, stocked, and staffed the stand through our own efforts. Through Sleep in Heavenly Peace, we picked up power tools and paint brushes and built beds for kids who had none, while our Church School children made them blankets.
BUILDING RELATIONSHIPS
Goal #5: "Revitalize our community by building coalitions with partners that share our vision."
In 2021, we continued to partner with local organizations who serve individuals and families in transition, while forming new partnerships as well. Our World Service Team works with Bethany Christian Services, Family Promise, Sleep in Heavenly Peace, SHARE, Nashua Soup Kitchen, DCYF, The Front Door Agency, Stepping Stones, and Bridges, to connect us with those in need. We've reached out to the Amherst community to help with these efforts through social media, attracting volunteers and donations, while also building relationships and our reputation as a church that lives its faith in the world. In 2022, our Racial Justice Group is partnering with a local black-owned organization to address racial injustice in our local communities. This group has brought us new members as well, as we address issues on the hearts of our community.
The GOOD NEWS of this last year is that our church continues to thrive during a time that has challenged us all. The energy and passion that we were experiencing prior to the pandemic has not waned and has carried us through, as we've re-imagined what it means to be church together and in the world. With the leadership of our pastors and staff, the gifts of our music team, the energy of our Church School program, and the commitment of our Ministry Teams and members to welcome all and serve our neighbors near and far, we're looking forward to what 2022 has to bring.
In the coming weeks, we'll be hearing more from our Stewardship Team about the many ways we can support our church's mission through our financial generosity. May the good news of this past year inspire us as we consider what we may have to give!
Sincerely,
Susan Manchester, Moderator
Doug Topliffe, Resource Ministry Coordinator
Rev. Maureen Frescott, Senior Pastor
Susan Holden, Linda Lannin, Will Redway, Stewardship Team