Community Suppers - ALL ARE WELCOME!
ALL COMMUNITY SUPPERS CURRENTLY SUSPENDED DUE TO COVID-19 PANDEMIC.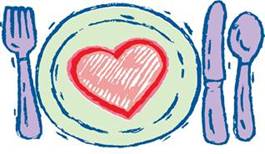 Meet new friends and enjoy a tasty meal! Our congregation participates in a joint program with other area-wide churches to provide hot meals, fellowship, and friendship to individuals and families in our local community.
A family-style community supper is provided at our church on the first Thursday, every other month.  We also host a spaghetti supper at SHARE on the 1st Tuesday of every other month.  Fun, food, and fellowship are guaranteed! Please see below for upcoming dates.
Upcoming Suppers:
TBD
Locations:
SHARE suppers are held at the SHARE Center, 1 Columbus Ave., Milford, NH 03055
CCA Suppers are held at our church in our Community Room, 11 Church St., Amherst, NH 03055