Music in our church during the 18th and early 19th century was primarily choral, accompanied now and then by stringed instruments. The first record of the church obtaining an organ is 1830, when John Prentiss purchased one that his wife played during service. Aaron Lawrence, a deacon and man of means in town, helped to purchase a new organ for $1000 from Hook Co. of Boston in 1864. A third organ was purchased from G.H. Ryder of Boston in 1873 and used for the first time in the centennial celebration of 1874. That organ continued in use until replaced by the current Johnson Tracker Organ that arrived in town in 1961 and was installed in the church in January 1963. It is one of fewer than 200 Johnson tracker organs that remain in use.
William Johnson built the organ in 1871. Its design was different from contemporary organs that tended to have a heavy tone with pipes that "spoke without accent". Those earlier organs also had pneumatic or electric action that required the player to be some distance from the pipes and, some felt, unable to control them.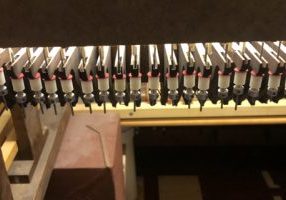 Johnson designed a "tracker" organ in which pressing the keys causes a direct, mechanical action; opening valves to admit wind to separate note channels below the pipes and using a slider windchest to move thin strips of wood that open and close the holes on which the pipes stand. Some say the action mimics the human voice.
The Johnson Tracker Organ was first used by the First Baptist Church in Brattleboro, Vermont. Later, the organ was purchased by and moved to a Methodist Church in Melrose, New York, just north of Albany. It was there that the Amherst church found it, with the help of the Organ Historical Society. Robert Reich, of Andover Organ Company, was hired to dismantle and move the organ from New York to Amherst.
But more help was needed. Over four hot days in September, 1961, Joseph Perkins of the Music Committee, along with Richard Smith, G. Winthrop Brown, and Patrick McCreary wrestled the organ onto a U-Haul trailer and made the long trip to Amherst, with two breakdowns along the way. Because time was needed to raise the $5000 it would cost to install the organ, a large group of Amherst residents unloaded the organ and stored it in Honora Spaulding's barn.
The organ was installed under the direction of the minister, Rev. Trudinger, himself an accomplished musician, and the organist, Mrs. Willis. They also selected the voicing, or tone, of the organ's 1260 pipes. The organ had its first performance providing music for selections from Handel's Messiah during Christmas of 1962. It was formally dedicated in January, 1963 and has provided background and accompaniment for our congregation and choir since.
Gene Cronin – Church Historian (ret.)