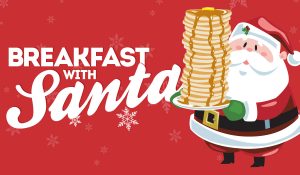 Come have breakfast with Santa! All children, parents, grandparents, friends and neighbors are invited to join in the fun. Admission includes a hot breakfast, games, crafts and a visit/photo of your child with Santa. Each child will receive an age appropriate book.
This popular event will run two seatings: 9:00-10:30 am or 10:30 am-12:00 pm. Please see the information to the right for more detail on how to register and pay for this fun event. Seats are limited and this event always sells out so register now!
If you have questions please contact Marti Warren.
REGISTRATION & PAYMENT INFORMATION
There are two seatings:
Seating #1: 9:00-10:30 am
Seating #2: 10:30 am-12:00 pm.
Admission fee: $10 per person (children12 months and under are free). Seating is limited and sells out fast so register today!
Please note: Santa comes regardless of weather and admission fees are non-refundable.
You may also register in person at the church office Monday-Friday from 9:00am to 3:30pm. See map below for location and directions.
Congregational Church of Amherst: 11 Church St. Amherst NH 03031