Small Group Ministry
Small Group Ministry is where 8-10 people meet in a committed group with the intention of establishing deeper connections with each other and with God. The groups meet once a month from October to June and are led by trained lay members of the congregation.  The group meetings run 1.5 hours and include a check-in, a short topic reading, discussion of the topic, and closing prayer.
This year our Small Groups will focus on the STORIES OF OUR FAITH theme that is guiding our Creative Worship and other church programs. Each month we'll focus on a different aspect of our worship and how it connects with our faith journey! Full Details Here.
Wednesday Morning Adult Ed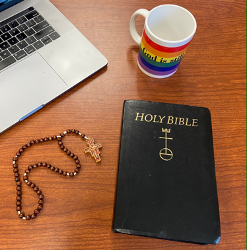 "Understanding the New Testament"
September 20th, 2023-February 7, 2024
1st, 3rd Wed 10:00-11:30 a.m. on Zoom
Why do we have four Gospels? Why do they contradict each other at times? What is the Book of Revelation really about? This fall, we'll continue our year-long look at the New Testament with the Great Courses video lecture series. We'll begin with a review of the gospels we covered last spring (Mark, Matthew, Luke) and then move on to the Gospel of John, the letters NOT written by Paul, and the Book of Revelation. We'll examine the original contexts of these writings and the people who wrote them, giving us a new perspective on these ancient texts. Full Details.
Racial Justice Group
On a hot and steamy July morning, members of the Racial Justice Group gathered to prepare for the Frederick Douglass Community Reading.  This is a state-wide event, sponsored by the Black Heritage Trail NH.  This year, twelve other New Hampshire communities participated in this community reading, which commemorates a speech addressing an Independence Day observance in Rochester, New York on July 5th, 1852.  On that day, Frederick Douglass, an abolitionist and heroic orator for liberty, delivered one of his most famous speeches, "What to the slave is your Fourth of July?" , a blistering indictment of an American idealism that ignored and accepted the inhuman treatment of enslaved African Americans as part of the country's identity and economy. Ironically, even though Douglass' words spoke directly to this moment in history, they still ring with an unsettling power today.
The Racial Justice Group recruited sixteen readers for this event who took turns reading Douglass's speech from the front of our church to an audience of twenty five people who sat under a canopy of Church St.  We hope to make this an annual event in Amherst.
The Racial Justice Group will continue their work this year beginning in September, meeting after the worship service on the 2nd Sunday of each month in the Parlor.  For more information, contact
Steve Boczenowski
.
The Second Hour
An ad hoc program offered on occasion during the hour following the Sunday church service. Topics vary and may be run in a series or as a single discussion. Church committees may also choose to present programs related to their work or interests during this hour.
Advent Offering
A December series of topics appropriate to the season across one or more evenings. Led by one of the pastors.
Lenten Study Series
During Lent season we will have a variety of study programs available for in-depth spiritual and Christian education. Read more about our 2023 Lenten Study Series.
Back Porch Summer Series 
Two or three informal evening gatherings in the summer, with discussions led by one of the pastors, at members' homes. The focus is on spiritual and theological questions or issues of the day from a faith perspective.