Adult Education
Our Adult Education ministry offers regular and one-of-a-kind programs to church members and friends. Participants come for a variety of reasons: fellowship, learning, community, laughter, insight, and the desire to grow and be transformed. All are welcome.
WAKING UP WHITE BOOK DISCUSSION SERIES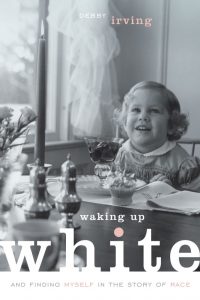 "In order to do better, we must be willing to hold our darkness to the light, we must be willing to shatter our own veneer of goodness."
—Ijeoma Oluo,
So You Want To Talk About Race

As Christians, we are called to love all of God's creation and resist the powers of evil and injustice in our midst. In the wake of the most recent public killings of black and brown Americans in our country, you may be wondering—what can I possibly do? Let's start by looking inward, and discovering how we have been shaped by the systems of oppression in our world.
Starting Thursday, June 25, join Pastor Kate from 6pm-8pm for a new Adult Ed program on the book Waking Up White: And Finding Myself in the Story of Race, by Debby Irving. For four weeks, from June 25 through July 16, we will dive into the challenging and important topic of racism and whiteness together. Sign up by June 22nd.
Disclaimer: this IS one of those book groups where you really do need to read the book! Let Pastor Kate know if you're having trouble obtaining a copy of the book.
The Second Hour
An ad hoc program offered on occasion during the hour following the Sunday church service. Topics vary and may be run in a series or as a single discussion. Church committees may also choose to present programs related to their work or interests during this hour.
Advent Offering
A December series of topics appropriate to the season across one or more evenings. Led by one of the pastors.
Lenten Study Series
During Lent season we will have a variety of study programs available for in-depth spiritual and Christian education.
Back Porch Summer Series 
Two or three informal evening gatherings in the summer, with discussions led by one of the pastors, at members' homes. The focus is on spiritual and theological questions or issues of the day from a faith perspective.